Latest from Pfanner
With the apple juice harvest 2020 slowly coming to an end, the price situation moving into 2021 is becoming more clear.
The harvests in the main apple growing regions (Poland, Ukraine, etc.) appear to be at about the level of 2019 however still below the amounts of 2018.
In terms of pricing the trend from last year continues. High acid apple juice concentrate remains rare and prices stay at a high level. Supply for low acid concentrate is well established.
Given a smaller harvest in China it appears to be unlikely that the Chinese price levels will allow any imports to Europe.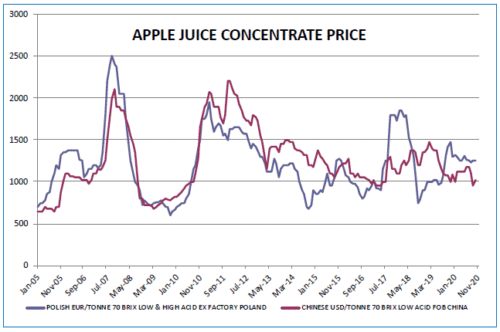 Opportunities during Covid – Drinks Segment
The last months brought some significant changes to the drinks business. The spread of Covid resulted in a change of shopping preferences and strong losses in certain categories (to-go, kids packs, smoothies, etc.).
At the same time this pandemic created new opportunities. Stated below are the most relevant trends which Pfanner observed during the last months. Adapting our strategy to these developments Pfanner is currently growing sales in 2020 despite the economic difficulties.
1.) Strong rise for at home consumption
2.) Less frequent store visits
3.) Focus on products supporting immunity
4.) Increased awareness of vitamin contents; Less awareness on sugar
Pfanner Product Innovation – 2L No Added Sugar Range
Over the last 3-5 years sugar in drinks became a strongly trending topic in public discussions. Drinks with added sugar are seen negative and unhealthy.
This trend became especially strong in Italy and created opportunities for a new category of drinks: No added sugar fruit drinks.
These drinks include fruit juice, water, natural flavors and vitamins. No sugar is added (only natural fruit sugar included). The result is a less sweet drink with a much lower calorie content compared to standard products.
In Italy the category achieved sales of about 10 million liters in 2019 (growth rate +56%) and therefore represents the fastest growing category. To serve this client need Pfanner launched an individual 2L range of no added sugar products: Orange, ACE Drink and Pineapple.
Pfanner will keep monitoring this trends and introduce the concept to new markets when suitable.